Announcements
Got a friend home for Christmas break or a Teen? Get them to throwdown with you for only 50$ for their break.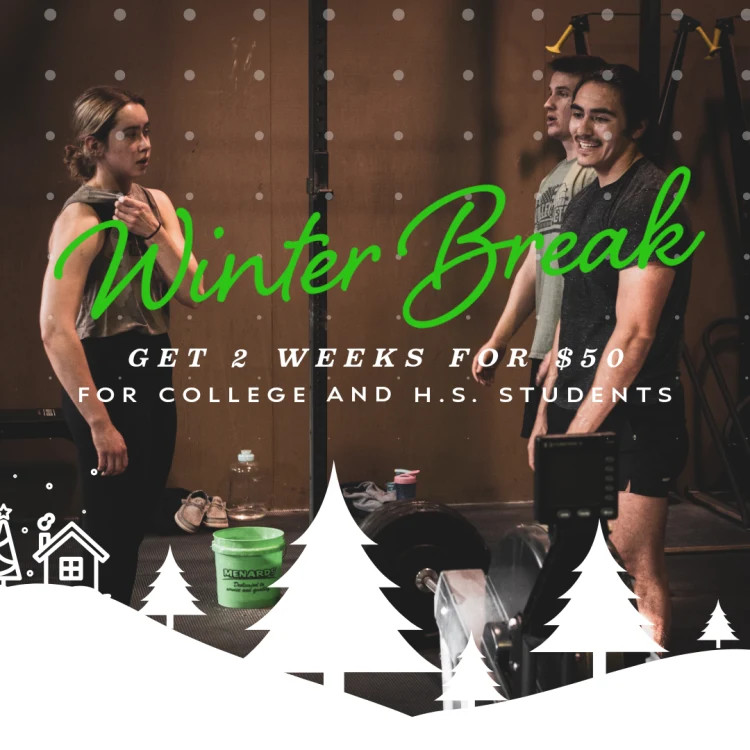 CrossFit Mettle and Honor – NCCOMPETE
A. CONDITIONING
Metcon (Time)
FOR TIME

3000/2500m Row

75 GHDs*

1 Mile Run
*Option to complete 100 Sit-Ups
(Score is Time)
GOAL: GRIND | RPE 6-7 — Triple Three vibes minus the DU. Steady and smooth on the rower, try to get a little fast each 1000m. Break up the GHD's into small sets and if unfamiliar with the movements stick to 25 GHD's + 50 Sit-Ups. Whatever you have left should get dumped on the final 800m Run.
B. NC60
Warm-Up
Warm-Up (No Measure)
2 ROUNDS

10 Arm Haulers

10 Alt. Step-Ups

10 Scap Pull-Ups
Into…
3 ROUNDS

100m Run

8 Step-Overs → 8 Box Jump Overs*

8/8 Single Arm Ring Rows
In rounds 2 and 3, complete 8 Box Jump Overs.
Skill
Metcon (No Measure)
ON A 12:00 RUNNING CLOCK…

Practice Bar/ Ring Muscle-Ups*
See below for options/ focuses…
Option 1 (Advanced):

2 Ring Kip Swings

+

2 Muscle-Ups
OR…
Option 2 (Intermediate):

2 Bar Kip Swings

+

1 Bar Muscle-Up
OR…
Option 3 (Beginner):

3 Low Ring Transitions

+

5 Kip Swings

+

2-3 Kipping Pull-Ups
(No Measure)
Workout
Metcon (Time)
6 SETS

Muscle-Ups (Athlete Choice)*

15 Box Jump Overs (24/20)

100m Run
-Rest 1:00 b/t Sets-
*Athletes Can Choose…

5 Bar Muscle-Ups

or

3 Ring Muscle-Ups
(Score is Total Time)
MU Option 1: Jumping Muscle-Up

MU Option 2: Burpee Pull-Up
C. STRENGTH / GYMNASTICS
Metcon (No Measure)
"GINGERBREAD MAN"

3 SETS

12 Barbell Hip Thrusts*

10/10 DBL DB Farmer Bulgarian Split Squats

8/8 Staggered Stance DBL DB Deadlifts
-Rest As Needed b/t Sets-
*:01 Pause at Top.
(No Measure)
GOAL: EFFORT | RPE 6-7 — This is going to light up your posterior chain! The Hip Thrusts should be moderate and smooth. Split Squats should be Mod-Heavy DB's and you can use the same for the Split Deadlifts. Try to keep transitions b/t movements minimal and then EZ pedal on a bike b/t sets!