Announcements
Got a friend home for Christmas break or a Teen? Get them to throwdown with you for only 50$ for their break.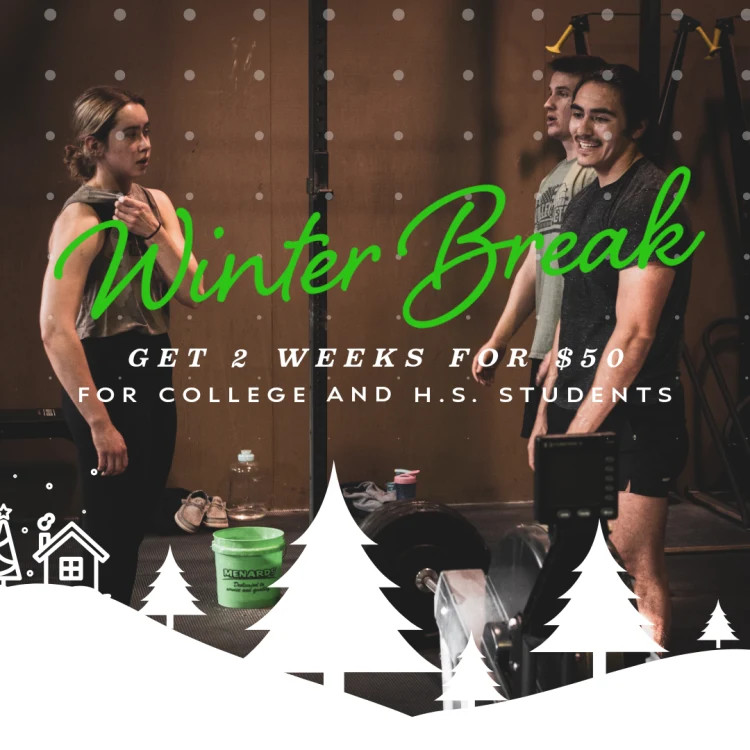 CrossFit Mettle and Honor – NCCOMPETE
A. CONDITIONING
Metcon (AMRAP – Rounds and Reps)
3 SETS

AMRAP x 5 MINUTES*

10-20-30-and so on…

Double Unders

4-6-8-and so on…

Cal Bike

2-4-6-and so on…

Toes to Bar
-Rest 2:30 b/t Sets-
*Reset to beginning of rep scheme each new AMRAP.
(Score is Lowest Set)
GOAL: SPRINT | RPE 6-7 — Don't go into this with a full send mentality. You need to PUSH but not at the expense of a steep fall off. Get after the Bike Cals, keep the TB unbroken and use the DU as recovery. 2:30 rest should allow for an almost full recovery so hang on after that first AMRAP!
B. NC60
Warm-Up
Warm-Up (No Measure)
1 ROUND

10 Cat Cows

10 Alt. Groiners

10 Push-Up to Pike
Into…
2-3 ROUNDS (Time Permitting)

5 Up-Downs Over Bar

5 Barbell RDL

5 Barbell High Pulls

5 Barbell Cuban Press
Strength
Clean and Jerk (ON A 15:00 RUNNING CLOCK…
Build to a 1-Rep Heavy*)
*Build up to and slightly past workout weight.
(Score is Weight)
Workout
"THE CALI BEAR" (Weight)
EVERY :30 FOR 20 MINUTES

1 Power Clean & Jerk (225/155)|(155/105)
*Beginners should scale weight to a moderate load and perform 2-3+ reps on the minute, resting as needed to ensure proper mechanics.
Last Seen: 7/26/2022
C. STRENGTH / GYMNASTICS
Metcon (No Measure)
EMOM x 9 MINUTES

MIN 1 – Complete the Complex…*

MIN 2 – 1-3 Strict Ring Muscle-Ups

MIN 3 – EZ Cardio Choice
*Complex:

1 Ring Kip Swing

+

1 Hips to Rings

+

1 Ring Sit-Thru
(No Measure)
GOAL: QUALITY | RPE 4-5 — Quick prep session for tomorrow's NCMETCON workout which is damn fun! As soon as you hop on the rings get under tension and keep your arms long though the swing! Remember we are still pushing down on the rings as we swing and eventually transition over. If unable to complete SRMU work on 3-5 Strict Wide Grip Pull-Ups to develop those lats!